Ultra Manhole
Access to the sewer system for inspection, cleaning or maintenance is obtained either through inspection chamber or manhole. Unlike conventional drainage system, the entry of man in advanced plastic drainage / sewer system comprising readymade chamber or manhole is almost not required. In most cases modern technology CCTV inspection cameras for inspection and jet cleaners for cleaning are available.
Most of the sewer requirements are fullfiled in Ultra 600 , however where man entry is essentially required, Supreme is now introducing Ultra 1200 readymade manhole (very soon Ultra 1000 will also be made available).Ultra manhole offered by the company consists of base, shaft and a cone (at the top) with suitable cover solution. This robust manhole, designed, manufactured and tested as per EN:13598 standard offer multiple advantages.
Fields of application
Ultra 1000/1200 manholes are designed to provide easy access for inspection, cleaning and maintenance of private and public sewer up to 6 meter invert depth. Complete solution having robust design, durability and flexibility makes it suitable for any situation and hence it is superior substitute to conventional manhole.
Complete plastic solution – readymade specious 1.0/1.2 m diameter and 640mm entrance
90% lighter than concrete manhole – Easy to handle and install
Suitable for installation depths up to 6 m
Robust design to withstand heavy traffic loads i.e. up to 40 tons wheel load
100% water tight structure – free from infiltration and ex-filtration
Simple and quick installation
Provided with inbuilt ladder for easy maintenance and cleaning
Adjustable height to suit site requirement during installation
Flat bottom for easy and proper installation
Excellent chemical and corrosion resistance – durable
Smooth internal surface, less slim build-up, minimizing the risk of blockage
Simple and reliable pipe connections at different levels are possible using 'In-Situ' adapters
Product Range
Ultra 1200 Manhole designed in three components i.e. base, shaft and cone is provided with
315 mm inlet (s) and outlet. Smaller size of pipes can be connected using eccentric reducers. Manhole base is available in seven different flow profiles as given below.
Base





Cover Solution
In addition to SFRC and GRP covers for different load condition, plastic covers are also made available for non load condition. GRP covers are available in 20 MT & 40 MT load class.
GRP Frame and cover

Adapters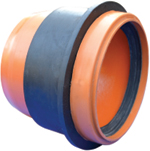 In-situ adapter
Beside , inlet(s) of selected flow profile of the base, additional connections are possible through shaft or cone at different height or angle using specially designed in-situ adapters. These adaptors available in 75, 110, 160 and 200 mm can be used for assessing any line even in post installation condition.
RCC Adapter
Specially designed adapters in 200×8″, 250×10″, 315×12″ are made available to connect RCC pipe with Ultra 1200 manhole.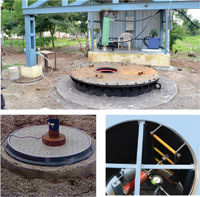 Testing
Vigorous tests as per EN standard are carried out on all manhole component to ensure its performance, and some of the important tests are given below.

1) Joint tightness – external and internal water test
2) Vertical load test
3) Pressure test
3) Stiffness and buckling test
4) Vacuum test
5) Pulling strength for ladder