hot & cold water plumbing system
Supreme indo green PP-R is one more advanced and ideal option, designed for hot and cold water and it is the latest and most suitable system for all plumbing applications. Besides plumbing, this system can be used for varieties of applications like air distributions, radiator heating etc. The specific chemical structure of indo green PP-R provides the well balanced mechanical properties and superior long term heat resistance. More importantly, the water flowing through it does not have any negative biological effect and hence remain most hygienic. Indo green pipes are approved and listed by W.R.A.S., UK, thus endorse its suitability for potable water. Indo green PP-R is the most suitable and ideal solution for housing sector. The system is in use for more than 25 years in Europe, the Gulf, China and Russia, and gaining good acceptance across the world.
Raw material
The Supreme indo green pipes and fittings are made of polypropylene random copolymer type – 3 (PP-R), supplied by reputed European companies which has Bodycote certification – an independent International testing body certifying the raw material particularly long term properties. It has high molecular weight and excellent creep resistance, which are fundamental characteristics for the transportation of hot fluids under pressure.
Product specifications and Range
Supreme indo green pipes and fittings are manufa tured according to EN ISO 15874 standards. Supreme indo green pipes and fittings are available in the dimensions 16 mm to 160 mm. Pipes are supplied in 3m lengths in PN8, PN10, PN12.5, PN16 and PN20 pressure class, where as moulded fittings are available in highest PN20 or PN25 pressure class, 160 mm fittings are available in PN10 and PN16. All the threaded inserts in the transition fittings are in duly nickel plated brass to withstand chemical corrosion at elevated temperatures. Now all Supreme indo green PP-R pipes are made UV-Stablized with special exterior uv-resistant layer and hence fully stabilized against damaging effect of Sun rays.
Certified by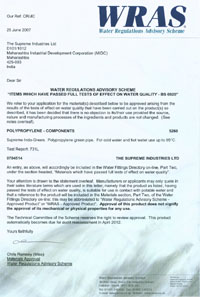 Light weight, easy and quick assembly
which results in extensive saving on time and labour.
Ideal and Safest system for carrying drinking water
PP-R is absolutely free from corrosion and negative biological effects. It does not break down even under the harshest of water conditions; hence the quality of water never deteriorates. It is in full compliance with the International standards on the use of plastics materials for the transportation of potable water. It is endorsed with most prestigious W.R.A.S. (UK) certification.
Safe and watertight joint -
Excellent resistance to corrosion and chemical attacks
PP-R pipes and fittings are stable against the majority of known aggressive and toxic chemicals, aggressive soils and fluids in the external environment.
Reduced head loss
Mirror smooth inside surface ensures high flow rates and very low frictional losses.
Low thermal conductivity
which results in saving on insulation cost, thereby reducing overall operational costs.
Free from scaling
Due to the unique properties like extremely smooth surface, non-polar nature of the material, and low surface energy of the PP-R, limestone or other deposits cannot form and hence there is no scaling or blockage in the pipelines throughout the life of the piping system.
High impact strength
Indo green PP-R has a very good impact strength and hence no possibility of breakage.
Low on sound
The sound-dampening property of PP-R is a major attraction in plumbing, flushing and pressurized flow applications.
Long operational durability
Indo green system ensures a minimum 50 years of trouble free performance.
Overall Economy
This system is most cost effective than any other plumbing system. Moreover, due to savings in installation and insulation costs, this system is even comparable with standard make G.I. B class piping system.Besides above stated benefits, it has very good resistance to frost, abrasion and stray current, and is considered to be most suitable in seismic area's.
Distinguishing features of indo green PP-R Quality conformity with European and International Standards.Manufactured from PP-R type-3, supplied by reputed European suppliers which have Bodycote (an independent international testing body) certification.Indigenously manufactured complete range of pipes and fittings from 16mm to 160mm with necessary heating tools and accessories.Availability of fittings in highest PN 25 and/or PN 20 pressure class. For 160 mm size fabricated fittings are available in PN10 and PN16 pressure class.UV resistance – Single layered UV- stabilized pipes , makes it suitable for outdoor application.Long lasting – minimum 50 years of trouble free performance.The only system backed with 10 years warranty. WRAS Approved.
Fields of applications
Indo green PP-R is designed for hot and cold water supply and heating applications and it is suitable for different applications enlisted below.
1) Hot and cold water supply in residential, industrial, commercial and public projects.
2) Solar heater applications
3) Drinking water and liquid foods
4) Watering systems for greenhouses and gardens
5) Transportation of aggressive fluids
6) Water purifying plants
7) Radiator heating
8) Traditional heating systems
9) Air distribution and compressed air systems.
10) Chilled water and air conditioning
Pipes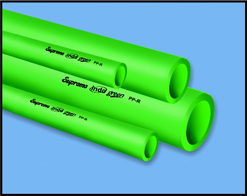 Pipe Dimensions as per EN ISO 15874 Specification

Note :
1. Pipes are offered in Indo green (IG) colour with standard length of 3.0 meter, duly packed in plastic bags.
2. Non standard length of 4.0 meter and 6 meter can be offered against bulk requirements.
3. All dimensions unless otherwise specified are in mm.
Next