Skyrise Hi-tech Low noice SWR drainage System
The System-Supreme "Skyrise", Low Noise, S.W.R. drainage system is a premium product especially designed for hotels, hospitals, hi-rise buildings, and premium projects where regular S.W.R. do not suffice the application requirement. Such buildings require a soil system which is strong enough to withstand site handling and other application requirements. Designed to meet strictest demands for strength and other mechanical properties, this thick walled, high density "Skyrise" Hi-Tech S.W.R. drainage system is additionally featured with low noise aspects. This makes it suitable for the projects where sound beyond certain decibel level is not desirable. Thus a combination of strength and Low noise aspects has made this product a much better solution for building drainage. Like our pioneering uPVC, S.W.R. drainage system introduced 25 years back which has now successfully replaced conventional CI and cement drainage products in the market, this all together new Hi-Tech soil system will set new trend for the new market segment where people are expecting to have such specialty products. It is the best plastic alternative to CI drainage system. As a pioneer in the field it is with great pride and joy we have been introducing new product in the market to elevate present drainage segments.
Product specifications and range -Supreme Skyrise S.W.R. drainage system is made in the sizes 75,110,160 and 200 mm. Wall thicknesses of pipes and fittings are designed to make the product strong, durable and soundproof. This system conforms and exceeds EN 1329 standard requirements.
Material - For decades the Indian construction industry is familiar with PVC based soil and waste pipe systems. The logic is PVC has traditionally been recognized and used as the most suitable for drainage and sewerage installations, PVC has a high density among the popular thermoplastics and jointing can be made both by solvent cementing and ring seal type. Supreme Skyrise Hi-Tech drainage system is made up of mineral reinforced PVC for improved sound insulation.
Meeting all requirements - Rigorous testing and quality control throughout the entire production process ensures that the "Skyrise" system is a highly reliable and extremely effective low noise system.
Fields of application - Skyrise is specially designed for high-rise buildings and premium construction projects like hospitals, luxurious hotels and apartments etc. where noise insulation is required. Skyrise is an ideal solution for all types of professional wastewater installations.
Features & Benefits
"Skyrise" premium drainage system offers multiple advantages which are given below.
Strong and durableEvery component of the system is designed to provide adequate strength to make it strong against various forces encountered during and after the installation.
Improved noise insulationDesign of the product with extra wall thickness and ribs on the external face of fittings together with special compounds having increased molecular weight makes the system low on sound and hence the sound level gets substantially reduced. This is an excellent system to absorb and decrease all noises derived from the drainage installation within the buildings, thus noise-free environment enhancing high living comfort is ensured.
Extensive range of pipes and fittingsComplete product range in push fit – rubber seal type joints are made available to cater to each and every installation requirement.
Smooth bore- Better flowNo clogging -Smooth and bright internal and external surfaces of "Skyrise" help to avoid sedimentations and lime deposition.
Easy and leak proof jointsUnique design of joints with click ring , double lip gasket system with reinforcing rings makes the joints absolutely water tight. Unlike normal sealing rings, sealing rings provided by "Skyrise" can't be easily removed which guarantee a perfect. hydraulic seal and total safety during installation. Hence there is no scope of leakage under any circumstance.
Light weight compared to CIEasy installation – Light weight and easy jointing technique makes the job very simple, easy and quick.
Unique design and elegant appearanceUnique and innovative design of the fittings with ribs gives greater compactness and strength beside elegance. Swept entry design of the tee's meet UPC requirements.
Chamfered pipe endsAs the pipes are supplied with chamfered ends, the joining and installation becomes easier.
Corrosion free – longer life beyond 50 year's"Skyrise" being free from corrosion and having adequate strength can lasts for minimum 50 year's.
Excellent chemical resistance"Skyrise" offers great resistance to a very wide range of chemical agents .
Good fire resistant propertiesPVC is self extinguisher of fire. It is classified as B-S1-dO(B= Low speed of fire spread and heat emission, S1= Low quantity and speed of smoke emission, dO= No flaming drip's are produced).
Compatible with existing S.W.R . system
Cost effective"Skyrise" offers cost advantage over CI and other similar noise level pipe systems.
Pipe fixingFixing of piping system on the wall must be carried out using appropriate brackets or clamps. There are mainly tow types of clamps or fixing brackets i.e. fixed clamps and sliding clamps. Fixed clamps also called fixed points do not allow pipe to move axially whereas sliding clamps are clamps which anchor the piping system with the wall or supporting structure but allow axial movement. Metal clamp with rubber seal which acts as fixed point wherein rubber elements breaks the sound barrier is required to avoid the transfer of structure borne sound.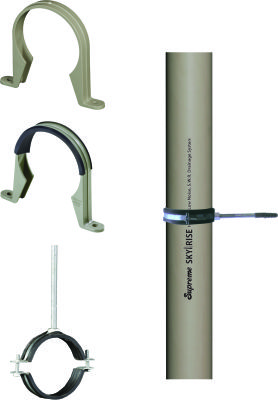 Expansion controlIn case of push-fit joints and assemblies, 10 mm space should be left in order to enable the system to stretch longitudinally. This can be achieved by inserting the pipe for full socket depth and withdrawing it by 10 mm.
Combination of fixed and sliding clamps as per recommendations is essential to take care of expansion problems.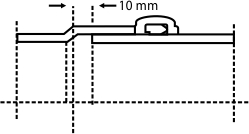 Pipes

Fittings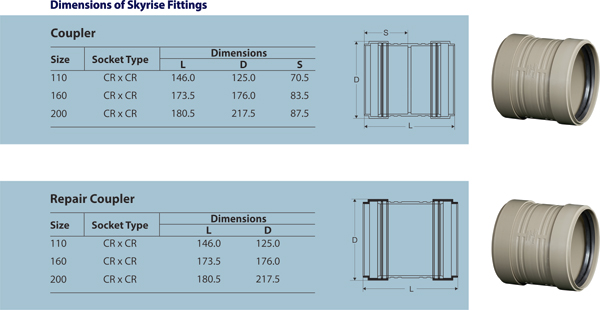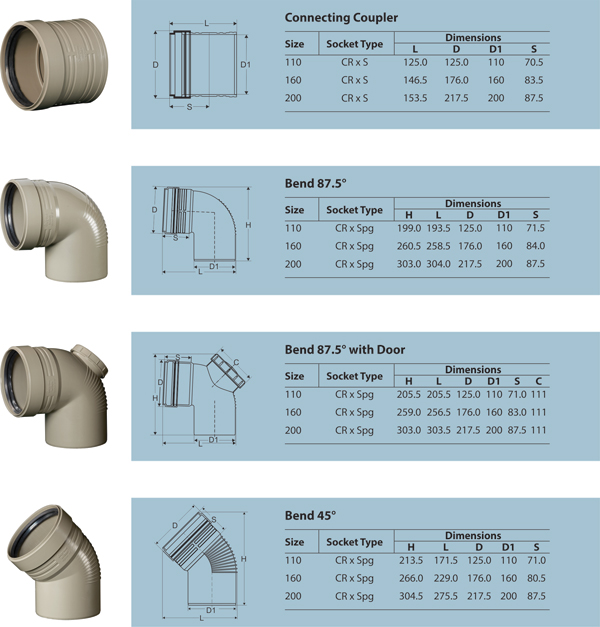 Next
Installation Procedure
Installation of Supreme Hi-Tech, Low Noise system has to be done under the supervision of a good technician, paying full attention to the expansion/ contraction process drainage which does not cause any stress on the pipe system. Normal clamps available in the market will do but it is advisable to use the ones with inner rubber lining to minimize the structure born noise transfer.
1.Fixed clamps (clamps with rubber liner) support the system firmly and the loose clamps (clamps without rubber liner) allow the expansion/ contraction of the pipes freely.
2. Clamp interval for horizontal lines should be approx 10 times of the external diameter of pipe.
3. Clamps in the vertical lines should be between 1 – 2 mtrs.
4. Do not install clamps at the point of impact i.e. on the flat places of pressure areas.
5. In the vertical pipes, it is recommended to use one fixed clamp and one loose clamp per length.
6. The fixed clamp must be installed just above the fitting at the bottom end of the vertical pipe line. The sliding clamp has to be installed at the distance of maximum 2 mtrs. from the fixed clamp.
7. In multi- storey buildings ( above 3 floors ), the vertical line has to be secured against sliding down. Use of a short length of socketed pipe with a fixed clamp under the socket is recommended.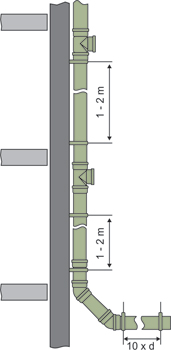 Joining instructions ( pipe – socket connections)
1. Clean the socket and gasket, check the condition of the gasket.
2. Clean the ends of both the pipe and fitting to be connected.
3. Apply lubricant to the ends of the pipe and gasket (do not use grease).
4. Insert the pipe completely into the socket.
5. Withdraw about 10 mm of the pipe (such a space will compensate for expansions); in the case of a fitting, this operation is not necessary. For upright installations, the pipe must be anchored to the wall so that the 10 mm of extracted pipe do not fall back into its previous position, thereby depriving the system of the space necessary to allow for expansion.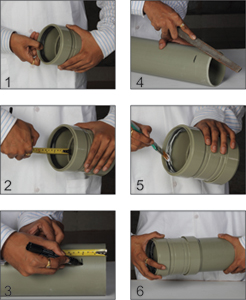 All the dimensions unless otherwise specified are in mm • All information contained in this literature is given in good faith and believed to be accurate and reliable. But because of many factors which are outside our knowledge and control and affect the use of product, no warranty is given or is to be implied with respect to such information, nor we offer any warranty of immunity against patent infringement. No responsibility can be accepted for any error, omissions or incorrect assumptions. • Any specifications can change without prior notice